2020 is NOT Canceled: Film Festivals and Submissions in the Age of COVID-19
2020 is NOT Canceled: Film Festivals and Submissions in the Age of COVID-19
2020-05-15 21:55:00
2020-05-20 22:00:00
https://network.nyfa.edu//medias/image/thumbnail_2848800285ebeec7ecb4dd.jpg
2020 is NOT Canceled:Film Festivals and Submissions in the Age of COVID-19Wednesday, May 20, 20206:00 p.m. ET/3:00 p.m. PTLike everything else, COVID-19 has forced film festivals around the world to pivot quickly. From Cannes to SXSW to Tribeca, spring and summer festivals have been canceled, postponed, or moved online in response to the pandemic.But what about festivals scheduled for the rest of the year? What are they doing? And what does this mean for filmmakers like you, who had planned to use festivals as their primary way to get their work out into the world?These questions, and even some of your own, will be answered in a live online panel, 2020 is NOT Canceled: Film Festivals and Submissionsin the Age of COVID-19. Join Crickett Rumley, NYFA's Director of Film Festivals, for a discussion with veteran festival directors and programmers:Larry Laboe, Co-founder and Executive Director of New Filmmakers LABarbara Morgan, Chief Executive Director of the Austin Film FestivalBojana Sandic, Programming Director for New Filmmakers LA, jurist for Palm Springs Shortsfest, Slamdance, and OutfestDaniel Sol, Co-Founder and Co-Director of Hollyshorts Film FestivalHebe Tabachnik, Senior Programmer for the Seattle, Palm Springs, and Cartagena International Film Festivals and Artistic Director for Cine Latino in Minneapolis-Saint Paul
https://network.nyfa.edu/event/2020-is-not-canceled-film-festivals-and-submissions-in-the-age-of-covid-19/2020/05/15/327
The registration deadline has expired.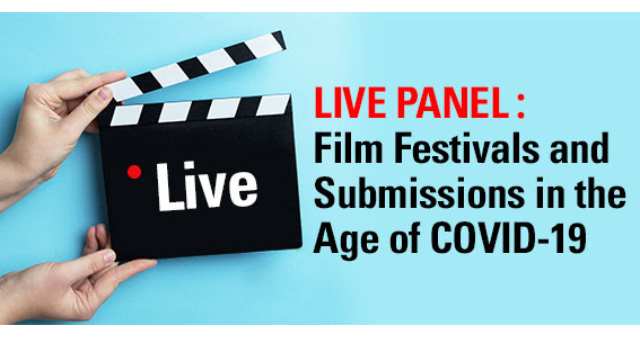 2020 is NOT Canceled:
Film Festivals and Submissions in the Age of COVID-19
Wednesday, May 20, 2020
6:00 p.m. ET/3:00 p.m. PT

Like everything else, COVID-19 has forced film festivals around the world to pivot quickly. From Cannes to SXSW to Tribeca, spring and summer festivals have been canceled, postponed, or moved online in response to the pandemic.

But what about festivals scheduled for the rest of the year? What are they doing? And what does this mean for filmmakers like you, who had planned to use festivals as their primary way to get their work out into the world?

These questions, and even some of your own, will be answered in a live online panel, 2020 is NOT Canceled: Film Festivals and Submissionsin the Age of COVID-19. Join Crickett Rumley, NYFA's Director of Film Festivals, for a discussion with veteran festival directors and programmers:
Larry Laboe, Co-founder and Executive Director of New Filmmakers LA
Barbara Morgan, Chief Executive Director of the Austin Film Festival
Bojana Sandic, Programming Director for New Filmmakers LA, jurist for Palm Springs Shortsfest, Slamdance, and Outfest
Daniel Sol, Co-Founder and Co-Director of Hollyshorts Film Festival
Hebe Tabachnik, Senior Programmer for the Seattle, Palm Springs, and Cartagena International Film Festivals and Artistic Director for Cine Latino in Minneapolis-Saint Paul
Released on:
Los Angeles Campus, New York Campus, CREW UP, Photography Department ( LA and NY), Film Festival Department, Producing Department, LA FILM DEPARTMENT, LA Cinematography Department, LA DOCUMENTARY DEPA...