Live Q&A with Award-Winning Actor Alec Baldwin - Register Now
Live Q&A with Award-Winning Actor Alec Baldwin - Register Now
2020-07-17 20:55:00
2020-07-21 21:00:00
https://network.nyfa.edu//medias/image/thumbnail_6580238875f11ee285c2be.jpg
Date: Tuesday, July 21, 2020Time: 10:15 a.m. PT/ 1:15 p.m. ETModerated by: Tova LaiterTo attend the live Q&A with actor Alec Baldwin, click the register button belowSince 1980, Alec Baldwin has appeared in numerous productions on stage, in films and on television. He has received a Tony nomination (A Streetcar Named Desire, 1992) an Oscar nomination (The Cooler, 2004) and has won three Emmy awards, three Golden Globes and seven consecutive Screen Actors Guild Awards as Best Actor in a Comedy Series for his role on NBC-TV's 30 Rock. He also starred in THE HUNT FOR RED OCTOBER, for which NYFA's Founder, Jerry Sherlock, was Executive Producer.His films include: GLENGARRY GLEN ROSS, MALICE, THE EDGE, IT'S COMPLICATED, BLUE JASMINE, STILL ALICE, MISSION IMPOSSIBLE: ROGUE NATION, and THE BOSS BABY among many others.His co-stars include: Nicole Kidman, Meryl Streep, Kate Blanchett, Tom Cruise, Al Pacino, Sean Connery and more.Baldwin serves on numerous boards related to the arts, the environment and progressive politics including the Hamptons International Film Festival and the New York Philharmonic. He is also the radio announcer for the New York Philharmonic.He has authored three books: A PROMISE TO OURSELVES, his memoir entitled NEVERTHELESS and, with Kurt Andersen, the Donald Trump parody YOU CAN'T SPELL AMERICA WITHOUT ME. He is the host of a podcast, HERE'S THE THING, for WNYC.Baldwin hosts ABC's Match Game, the classic television game show; a portion of his fees are donated to charity through The Hilaria and Alec Baldwin Foundation. 
https://network.nyfa.edu/event/live-q-a-with-award-winning-actor-alec-baldwin-register-now/2020/07/17/349
The registration deadline has expired.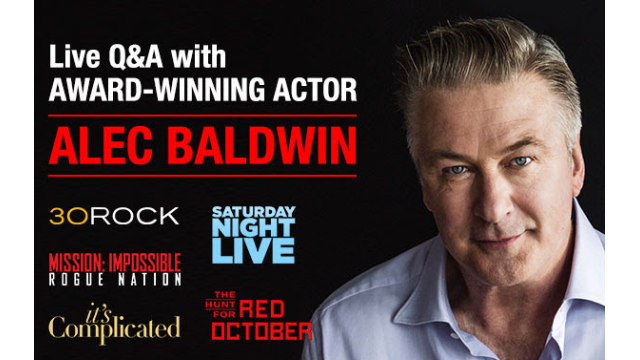 Date: Tuesday, July 21, 2020
Time: 10:15 a.m. PT/ 1:15 p.m. ET
Moderated by: Tova Laiter
To attend the live Q&A with actor Alec Baldwin, click the register button below



Since 1980, Alec Baldwin has appeared in numerous productions on stage, in films and on television. He has received a Tony nomination (A Streetcar Named Desire, 1992) an Oscar nomination (The Cooler, 2004) and has won three Emmy awards, three Golden Globes and seven consecutive Screen Actors Guild Awards as Best Actor in a Comedy Series for his role on NBC-TV's 30 Rock. He also starred in THE HUNT FOR RED OCTOBER, for which NYFA's Founder, Jerry Sherlock, was Executive Producer.

His films include: GLENGARRY GLEN ROSS, MALICE, THE EDGE, IT'S COMPLICATED, BLUE JASMINE, STILL ALICE, MISSION IMPOSSIBLE: ROGUE NATION, and THE BOSS BABY among many others.

His co-stars include: Nicole Kidman, Meryl Streep, Kate Blanchett, Tom Cruise, Al Pacino, Sean Connery and more.

Baldwin serves on numerous boards related to the arts, the environment and progressive politics including the Hamptons International Film Festival and the New York Philharmonic. He is also the radio announcer for the New York Philharmonic.

He has authored three books: A PROMISE TO OURSELVES, his memoir entitled NEVERTHELESS and, with Kurt Andersen, the Donald Trump parody YOU CAN'T SPELL AMERICA WITHOUT ME. He is the host of a podcast, HERE'S THE THING, for WNYC.

Baldwin hosts ABC's Match Game, the classic television game show; a portion of his fees are donated to charity through The Hilaria and Alec Baldwin Foundation.
Released on:
Los Angeles Campus, New York Campus, CREW UP, Photography Department ( LA and NY), Film Festival Department, Producing Department, LA FILM DEPARTMENT, LA Cinematography Department, LA DOCUMENTARY DEPA...