Live Q&A with Producer Adam Fields - Register Now
Live Q&A with Producer Adam Fields - Register Now
2020-08-06 19:00:00
2020-08-07 19:05:00
https://network.nyfa.edu//medias/image/thumbnail_215970925f29904f575a6.jpg
Date: Thursday, August 6, 2020 (U.S) / Friday, August 7, 2020 (Australia)Time: 6:00 p.m. PT/ 9:00 p.m. ET / 11:00 a.m. AESTCurated and Moderated by: Tova LaiterTo attend the live Q&A with producer Adam Fields, click the register button below:Throughout his career, Adam Fields has produced movies for Sony Pictures, Miramax, Summit Entertainment, 20th Century Fox, Universal, Warner Bros., Relativity Media, and Broad Green Pictures. He began his career supervising a number of pictures including An American Werewolf in London, Six Weeks, Missing, and Endless Love. He also served as the Executive Producer of the soundtrack album and single on the latter film, which, at the time, became the longest running number one single in history. Fields subsequently executive produced the multi-platinum soundtrack for the film, Flashdance, which was a vital factor in that film's extraordinary box office success. Fields later spearheaded the development and production of a number of films including John Hughes' directorial debut, Sixteen Candles and the now iconic film The Breakfast Club.He produced and executive produced a number of films including Vision Quest, featuring Linda Fiorentino, Madonna, Johnny Be Good, and, then unknown, Uma Thurman. He also produced Great Balls of Fire, starring Dennis Quaid and Wynona Ryder, and developed numerous pictures including Rosewood Massacre, My Fellow Americans, and Ali, starring Will Smith in an Academy Award-nominated performance. He executive produced the Wesley Snipes and Woody Harrelson action film, Money Train before re-establishing his own production company at 20th Century Fox, where he first produced Ravenous, and his own story Brokedown Palace, starring Claire Danes, Kate Beckinsale, and Bill Pullman. He followed that with the independent cult smash hit film, Donnie Darko, starring Drew Barrymore and Jake Gyllenhaal. Fields helped to create the first state tax investment incentives for feature film productions by utilizing Act 221 to arrange a multi-million dollar rebate for Universal Studios by syndicating the state tax credits to the local Hawaiian insurance companies for the Universal production, Blue Crush.He also developed and produced Sin City: A Dame to Kill For, Bad Santa 2, Limitless, starring Bradley Cooper and Robert DeNiro, Safe Haven, starring Julianne Hough and Josh Duhamel, 21 & Over with Miles Teller, Masterminds with Zach Galifianakis and Kristen Wiig, Drive Angry, starring Nicholas Cage and Amber Heard and The Wedding Ringer, starring Kevin Hart and Josh Gad.Fields is currently preparing a reboot of Look Who's Talking for Sony Pictures Entertainment along with Shrink, based upon the graphic novel of the same name by Deadpool creator Rob Liefeld. 
https://network.nyfa.edu/event/live-q-a-with-producer-adam-fields-register-now/2020/08/06/360
The registration deadline has expired.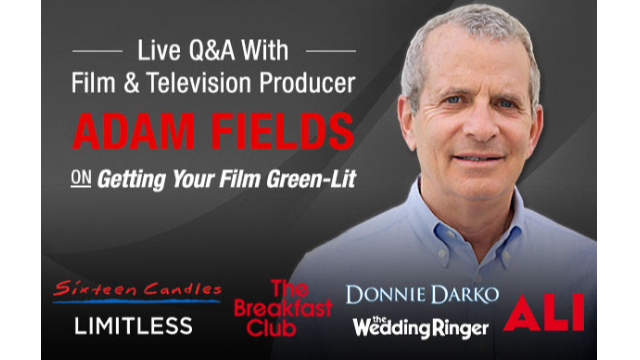 Date: Thursday, August 6, 2020 (U.S) / Friday, August 7, 2020 (Australia)
Time: 6:00 p.m. PT/ 9:00 p.m. ET / 11:00 a.m. AEST
Curated and Moderated by: Tova Laiter
To attend the live Q&A with producer Adam Fields, click the register button below:

Throughout his career, Adam Fields has produced movies for Sony Pictures, Miramax, Summit Entertainment, 20th Century Fox, Universal, Warner Bros., Relativity Media, and Broad Green Pictures. He began his career supervising a number of pictures including An American Werewolf in London, Six Weeks, Missing, and Endless Love. He also served as the Executive Producer of the soundtrack album and single on the latter film, which, at the time, became the longest running number one single in history. Fields subsequently executive produced the multi-platinum soundtrack for the film, Flashdance, which was a vital factor in that film's extraordinary box office success. Fields later spearheaded the development and production of a number of films including John Hughes' directorial debut, Sixteen Candles and the now iconic film The Breakfast Club.

He produced and executive produced a number of films including Vision Quest, featuring Linda Fiorentino, Madonna, Johnny Be Good, and, then unknown, Uma Thurman. He also produced Great Balls of Fire, starring Dennis Quaid and Wynona Ryder, and developed numerous pictures including Rosewood Massacre, My Fellow Americans, and Ali, starring Will Smith in an Academy Award-nominated performance. He executive produced the Wesley Snipes and Woody Harrelson action film, Money Train before re-establishing his own production company at 20th Century Fox, where he first produced Ravenous, and his own story Brokedown Palace, starring Claire Danes, Kate Beckinsale, and Bill Pullman. He followed that with the independent cult smash hit film, Donnie Darko, starring Drew Barrymore and Jake Gyllenhaal. Fields helped to create the first state tax investment incentives for feature film productions by utilizing Act 221 to arrange a multi-million dollar rebate for Universal Studios by syndicating the state tax credits to the local Hawaiian insurance companies for the Universal production, Blue Crush.

He also developed and produced Sin City: A Dame to Kill For, Bad Santa 2, Limitless, starring Bradley Cooper and Robert DeNiro, Safe Haven, starring Julianne Hough and Josh Duhamel, 21 & Over with Miles Teller, Masterminds with Zach Galifianakis and Kristen Wiig, Drive Angry, starring Nicholas Cage and Amber Heard and The Wedding Ringer, starring Kevin Hart and Josh Gad.

Fields is currently preparing a reboot of Look Who's Talking for Sony Pictures Entertainment along with Shrink, based upon the graphic novel of the same name by Deadpool creator Rob Liefeld.
Released on:
Los Angeles Campus, New York Campus, CREW UP, Photography Department ( LA and NY), Film Festival Department, Producing Department, LA FILM DEPARTMENT, LA Cinematography Department, LA DOCUMENTARY DEPA...