THE 20/20 SERIES - A Conversation with Executive Producer and Director Marcos Siega
THE 20/20 SERIES - A Conversation with Executive Producer and Director Marcos Siega
2020-06-01 20:55:00
2020-06-03 21:00:00
https://network.nyfa.edu//medias/image/thumbnail_5856702625ed54c82b4db3.jpg
You've been invited toTHE 20/20 SERIESCreated by Liz HinleinA Conversation withExecutive Producer and Director Marcos SiegaWednesday, June 3, 20203:00 p.m. ET/12:00 p.m. PTThe 20/20 Series is a pop-up event that takes us into the homes, hubs and workspaces of an array of dynamic creative visionaries to allow for relaxed, engaging conversations on craft, creation and artistic vision.Each conversation with a creative visionary features 20 minutes of discussion with a moderator and a 20 minute Q&A from YOU, the audience.This event is open to the public, as a means of promoting global connection and creativity, a key mission of NYFA.Register
https://network.nyfa.edu/event/the-20-20-series-a-conversation-with-executive-producer-and-director-marcos-siega/2020/06/01/332
The registration deadline has expired.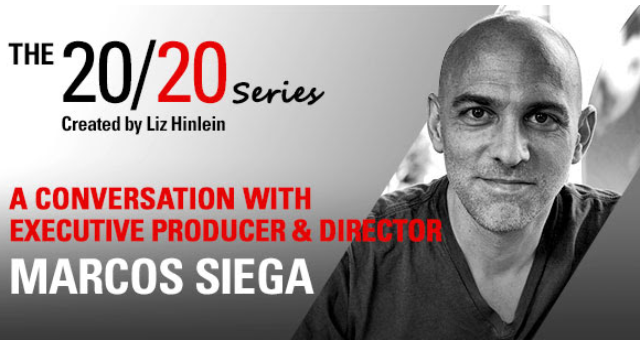 You've been invited to
THE 20/20 SERIES
Created by Liz Hinlein
A Conversation with
Executive Producer and Director Marcos Siega
Wednesday, June 3, 2020
3:00 p.m. ET/12:00 p.m. PT
The 20/20 Series is a pop-up event that takes us into the homes, hubs and workspaces of an array of dynamic creative visionaries to allow for relaxed, engaging conversations on craft, creation and artistic vision.

Each conversation with a creative visionary features 20 minutes of discussion with a moderator and a 20 minute Q&A from YOU, the audience.

This event is open to the public, as a means of promoting global connection and creativity, a key mission of NYFA.
Released on:
Los Angeles Campus, New York Campus, CREW UP, Photography Department ( LA and NY), Film Festival Department, Producing Department, LA FILM DEPARTMENT, LA Cinematography Department, LA DOCUMENTARY DEPA...